Hamilton Speciality Syringes
GC Syringe Pack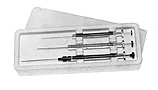 This convenient package contains three of the most often needed syringes for GC:
701N (10µL- standard liquid measuring device);
1702N (25µL- for gas or liquid injections);
7001KH (1µL- eliminates dead volume.)
| | |
| --- | --- |
| Description | Part No. |
| GC Syringe Pack | HAS80380 |
0.5µL Syringe with Stainless Steel Needle
For Capillary On-Column Injection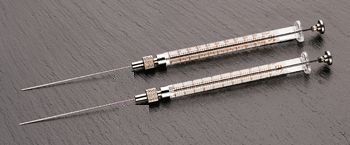 Inject small samples directly onto columns 0.25mm id and greater) with this fine-diameter needle syringe. Capacity is 0.5µL. The stainless steel needle has a 0.23mm od.
| | |
| --- | --- |
| Description | Part No. |
| 7000.5 OC Syringe | HA86257 |
| Spare Needle/Plunger Assembly | HA86258 |
Fused Silica Needle Syringe
For Capillary On-Column Injections
Hamilton combines their popular Microliter® Syringes with a needle made from fused silica (coated with high-temperature poyimide for strength), for direct injection onto your fused silica capillary column. The deactivated fused silica needles and precision syringe hubs and ferrules ensure accurate, reproducible and essentially inert sample handling. The needles are available on various lengths and they can be used with 10µL Microliter® syringes as well as the 10µL Gastight® Syringe. Accuracy and reproducibility are within 1% of the syringe volume.
| | |
| --- | --- |
| Description | Part No. |
| 701 RNFS Syringe, 10µL cap. | HA87402 |
| 1701 RNFS Syringe, 10µL cap. | HA87404 |
Replacement Parts
| | |
| --- | --- |
| Description | Part No. |
| FS Needle, 10cm x 0.17mm od | HA17737 |
| PTFE Ferrule, 0.17mm bore diameter | HA30947 |
| Spacer | HA30946 |
| Spacer with Sleeve | HA30948 |