Hamilton SampleLock Syringes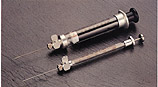 * Lock your sample in the sampleLock syringe with the easy-to-use twist valve
* Inject internal standards through the valve port into samples caonatined in the Sample Lock syringe
* Pressurize gaseous samples prior to GC injection
* Prevent loss of sample and plunger blowout at elevated pressures with the positive rear plunger stop
Sample Lock Syringes
| | | |
| --- | --- | --- |
| Model | Volume | Item No. |
| 1705SL | 50µ | HA80956 |
| 1710SL | 100µ | HA81056 |
| 1725SL | 250µ | HA81156 |
| 1750SL | 500µ | HA81256 |
| 1001SL | 1.0mL | HA81356 |
| 1002SL | 2.5mL | HA81456 |
| 1005SL | 5mL | HA556 |
| 1005SLPT | 5mL P&T | HA81570 |
| 1010SL | 10mL | HA81656 |
| 1025SL | 25mL | HA86326 |
| 1050SL | 50mL | HA86336 |
| 1100SL | 100mL | HA86346 |
Hamilton Company's new SampleLock syringes allow you to collect, store, transport, and analyze liquid or gaseous samples without the danger of evaporative loss or environmental contamination. Common applications for SmpleLock syringes include environmental sample collection and storage, pre-pressurization of gaseious samples for GC analyses, and sample spiking.
The SampleLock syringe combines the quality of the world-renowned Hamilton Gastight Syringe® with an easy-to-use twist valve. The syringe is available in sizes ranging from 50µ to 100mL. Apositive rear stop on the SampleLock syringes (250µ to 100mL) prevents plunger blowout and loss of sample. Inaddition, for improved precision and accuracy, the SampleLock syringes may be used in conjunction with Hamilton Company's new Digital Syringe.
SampleLock syringes come with 2", point style 2 RN needles, 22 gauge (except 22s gauge for 50 - 250 µl).
Valve Operation: The SampleLock valve is easy to use; a simple twist is all it takes to open or close the valve. Open the the valve by turning it so that the cap is in line with the fluid path. Close the valve by turning it so that the cap is perpendicular to the fluid path.
Purge & Trap Syringe: A purge and trap (P&T) version of the SampleLock syringe is available in 5 ml capacity. It comes with a male luer fitting, and is designed for analysis of drinking water following methods such as EPA 502, 503 and 524.