Accessories
Needle Cleaning Kit

This kit is specifically designed for cleaning syringes and needles. It includes one bottle of organic, biodegradable cleaning solution, and 10 each of five different diameter tungsten wires, ranging in diameter from 0.0035" to 0.0121. Suggested cleaning procedures are included. This kit is especially recommended for use with Hamilton needles and syringes.
| | |
| --- | --- |
| Description | Part No |
| Needle Cleaning Kit | HA76620 |
Fine Wire Kit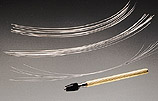 The Fine Wire Kit lets you clean many small items around the lab; also useful for bending into microhooks, other uses. The kit contains a pin vise and 30 stainless steel wires, 10 each of the following sizes: 0.006", 0.010" and 0.020". Please note: the wires in this kit cannot be used to clean 26s or 22s gauge needles.
| | |
| --- | --- |
| Description | Part No |
| Fine Wire Kit | HA205230 |
Hamilton Syringe Cleaner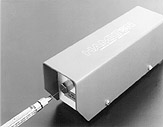 The Hamilton Syringe Cleaner effectively cleans 7000 Series syringes by vaporizing residues with a combination of high heat (approximately 370°C) and vacuum (0.1mm Hg). The syringe needle is insterted through the septum for 30 seconds while the plunger is reciprocated several times. This cleaner is not effective against syringes with plugged needles or frozen plungers. Care should be used when handling because of the extreme temperatures generated. The cleaner is available in 120 or 220V versions.
| | |
| --- | --- |
| Description | Part No |
| Syringe Cleaner, 120 V | HA76610 |
| Syringe Cleaner, 220 V | HA76615 |
| Replacement Septa, 5mm, 12/pk | HA76022 |